Beyond excited for the i'M x 1/1 POP UP STORE this weekend! The brain child of Matt Nash and Ilisa McMiken will launch their first outing in less than 5 days..... *EXCITED*!!!!


.
These two delicious fashion souls have backgrounds in menswear and this colaboration has been busting to take place. Mat told me a bit about the journey....
The concept came about as most do, over beers, a bottle of wine and a sewing party in my workspace. We decided that we should stop talking about working on a project together
,
just make a deadline and actually get sewing.

We both make a lot of clothes and bags for our friends, mine being my full time job. It was decided that we would put together a range of one-offs garments we want to wear right now and be able to sell them off at a reasonable price

So the deadline and store is happening next weekend, the 14th/15th of November out of our workspace on the corner of Bayard Street and Ponsonby Terrace from 10am.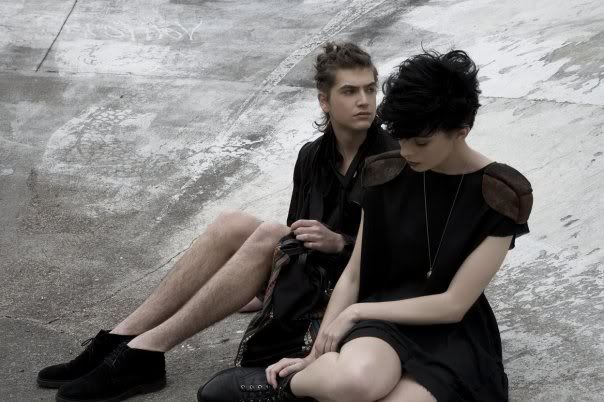 This project is not about making millions of dollars but about working in a debt free organic way, with one project's proceeds funding the next creative endeavour. But most of all, getting our clothes out there and being able to work together with other emerging creative artists and talented friends
We're all ready in the planning to expand our 1/1 Pop Up Store concept to a store in March 2010 to include recent fashion graduates and being able to offer a space and relevant context to sell their work within
What a breath of fresh air! I can't waaaaaaaaaaaaaaaait!!!! mmmmmmmm!!!! Put on your dancing shooooooooooooooes and get ready to looooook goood!

All clothing i'M x 1/1 /// photography guycoombes.com /// hair Jason Li @ Stephen Marr Newmarket /// make-up Meggie M /// Veronica @ 62 models /// Marcus @ Red11