BIEBER fever is sweeping Oceania at the moment with Justin Bieber's arrival in Auckland last night. MYgoodness have you seen the chaos that ensued in Sydney that caused an open air performance to be cancelled due to wild crowds?


Oh the hype! I have just read "Tween dreams for sale" in Martin Lindstrom and Patrica B. Seybold's book BRANDCHILD: Insights into the Minds of Today's Global Kids: Understanding Their Relationship with Brands and gosh Bieber fever is an amazing example of the empowerment of this influential and influenced market.
It's a common opinion both amoung media critics and grumpy older family members alike that popstars are "created". These opinions aside what is extraordinary to note is the manufactured reality of fans surrounding their glorified stars success.
The star struck tween's experience is mediated through a variety of sources that are consciously and unconsciously engaged with. Instant tweets from JB create pandemonium in airports, #bieberfever and #justinbieber as twitter trending topics create awareness of his continuing popularity (making him cool to tweet about) while jokes and facebook groups referring to Bieber as female rile up fans. No longer does adoration extend to a bedroom poster and doodled graffiti in school books reading "aych+bieber 4eva".
The private has become public and it's this public adoration/mediated experience that propels created stars into previously unimagined success.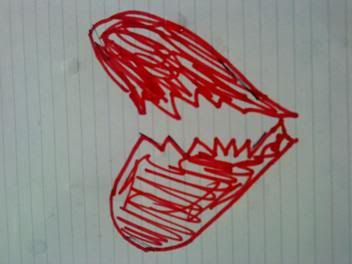 One Kiwi fan has decided to sell her broken Bieber heart on trademe after Justin ignored her at the airport on his arrival last night. She woefully writes:
"Trademe w0n't let me sell my heart, cos its like danger0us for my health an stuff s0 I'm like selling a drawing of it I just made instead

I was l1ke totes @ the airp0rt last nite when Justin Beiber like flew in2 New Zealand and I had a sign tht sed 'JUSTIN MARRY ME. PLZ!!!!'

He like totes ignord me and now my heart is like totes brokn.

I have no use for it in a world when I cannot be Mrs Beiber.

Plz n0te picture of heart is be1ng sold as 1s. It 1s deliberately drawn br0kn and 1m pretty sure n0thing but Beiber's l0ve can repair it. Perhaps even a k1nd w0rd. A s0oft kiss

It mite be a bit damp fr0m my tears. "
At least there is an easy way to remind intermediate kids of the "i before e" rule... think of BIEBER! Thoughts
Continue...