The first full day shows kicked of New Zealand Fashion Week today with a good 10 hours of effort put in by the fashion pack today at the brand new Viaducts Events Centre and then at two off site shows this evening. I must say I was feeling a little glum by early evening not having been blown away by any catwalk shows but this was before Salasai took the stage.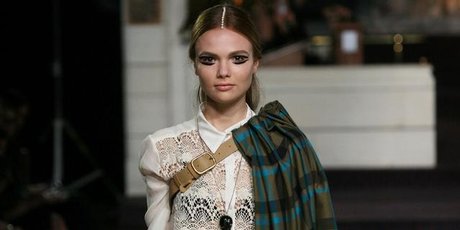 Set in the beautiful old church of St Matthew-In-The-City Salasai presented their AW '12 collection entitled "Uncharted Territory" to a full house. Mixing elements of school yard tartans with feminine lace and exaggerated proportions in sleeve, hem and crotch lengths a friend remarked that it had a bad ass anime feel to the range.
Facehunter / aychblog/ Lady Petrova
The most incredible part of my day today was meeting designer Petrova Hammond. I totally went fan girl and asked a mutual friend to introduce us! Petrova was a finalist in the first season of Project Runway Australia and just so happened to be wearing a piece from the collection she designed for the finale which I recognized immediately!
This woman is uber delightful and super encouraging. If you live in Melbourne you should totally check out the Lady Petrova Prom happening THIS Friday. Click
here
for the details
Big day tomorrow with Ruby, Celine Rita, Jimmy D, NZ Weddings, Lonely Hearts, Trelise Cooper and Stolen Girlfriends all hitting the catwalks. Remember to follow me on
Twitter
and
Facebook
and chat with me throughout the day! XX
Continue...